Medical Aphorisms
---

This app is a collection of approximately 531 medical aphorisms, proverbs, historical quotations, and even a few light-hearted comments. I have put together this collection to remind physicians of the history of medicine and some of its earliest aspirations. In this cynical age, I hope it reminds the reader that medicine is more than just a business or scientific pursuit; it remains both a calling and an art. While some of the sayings are dated, they should be read with a consideration for their historical context. A small number have been edited for length and readability. The app uses many of the Hippocratic aphorisms as a general outline, which is then filled in with similar quotes dealing with the same subject.

This universal app is targeted mainly to physicians, but may be of interest to anyone. Version 4 of the app runs on all devices capable of running iOS 13.

The background art work is from WikiCommons, the Wellcome Trust Medical Art Collection, as well as the Robert Thom Great Moments in Medicine collection (a collection of art commissioned by the now defunct Parke-Davis company over a period stretching from 1948 - 1964). The following are representative screenshots taken from the app in portrait and landscape modes: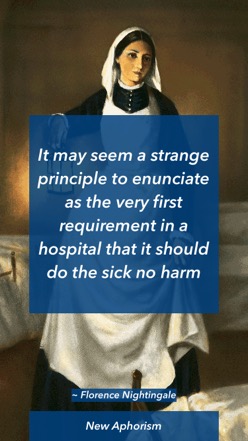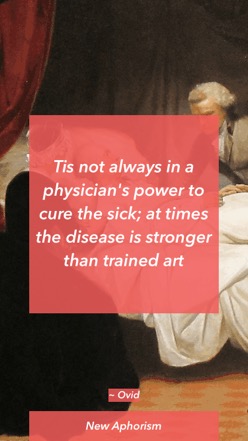 Please use the
contact page
to send any comments, suggestions, or rants to me. I would greatly appreciate any new aphorisms to include in any future update.

This iPhone app is now available on the Appstore.